| | |
| --- | --- |
| Another Day in the Jungle | |
---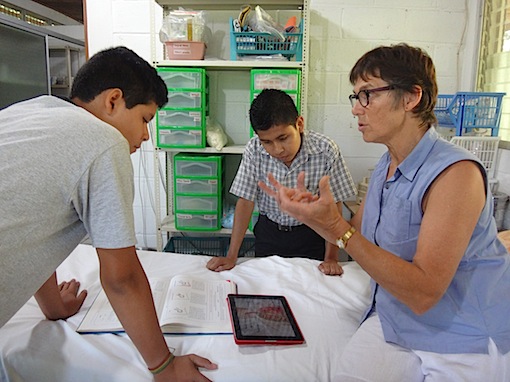 Patricia teaches a medical technique to translator Jose (left) and clinic worker Marvin.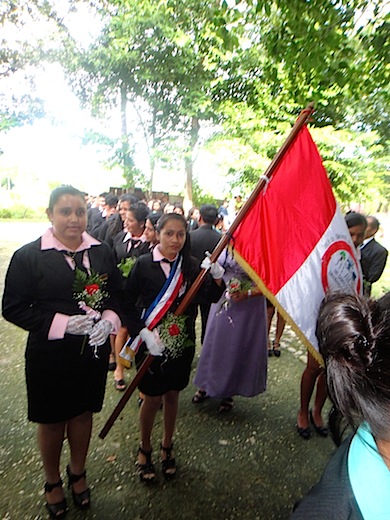 Ix-canaan Scholarship student Zulema Caal graduated First in the promotion of Bachelor of Arts and Sciences at the INED Academy and received the honor of carrying the flag for the graduation procession and march.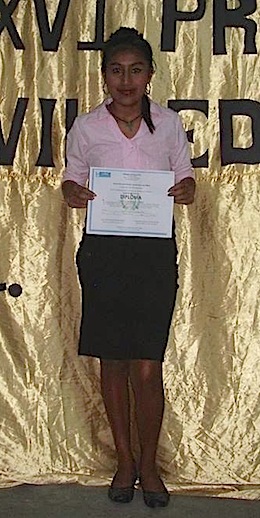 This year we have had more graduating Ix-canaan Scholarship students than ever before! Last night, Darling Patricia Mejia graduated with honours from Grade 9 in the NUFED School here in the village. Next year, she plans to continue as an Ix-canaan Scholar and will go on to Grade 10 in INED Academy in the next village.
Congratulations, Darling!!
A FUNDRAISER FOR PROJECT IX-CANAAN!
To take place at
Wild Rose Brewery
in the Currie Barracks
2, 4580 Quesnay Wood Drive SW, CALGARY, ALBERTA, T3E 7J3
September 12th, 2014 at 7 p.m.
_______________________________________
100 % of donations go to Project Ix-canaan to cover monthly maintenance costs and to run programs of
HEALTH, EDUCATION AND OPPORTUNITY
for the people of the rainforest.
_______________________________________
*COVER CHARGE:
CASH DONATIONS gratefully accepted at the door, tax receipts provided if over $15.
______________________________________________

Come join us for a FUN night out and DONATE to a worthy cause!

FUNDRAISING GOAL: $48,000.
*100% OF DONATIONS GO TO HELP THE POVERTY STRICKEN PEOPLE OF NORTHERN GUATEMALA!*
__________________________________
IF YOU ARE ATTENDING, PLEASE EMAIL:
aedge7777@gmail.com with name/email address of yourself and guests – we have LIMITED SPACE for this event so get on the list now!
__________________________________
Appetizers served at 7:00 pm
Hot buffet served at 8:00 pm!

CASH BAR –  100% of Ramon Beer***** sales and
50% of all other beverage sales go to help the people of Guatemala (full bar available)
******Wild Rose has brewed a special batch of RAMON STOUT BEER just for our event, made from the seeds of the ramon tree which grows in Guatemala! Not for sale in their restaurant or any liquor stores at this time. This is NOT like any other beverage you have EVER tasted – tastes like coffee liqueur with a hint of chocolate – and is HIGHLY addictive! Don't like beer? This isn't beer…it's a WHOLE 'nother beverage!*****
___________________________________

Silent auction with AMAZING items to bid on (more details to follow!!!)

Live entertainment/dancing

50/50 and other raffles

Personal presentation by Anne Lossing, the founder of Project Ix-canaan from Guatemala

_____________________________________

With your donations, we will empower the people of Guatemala by offering programs for:

*HEALTH – EDUCATION – OPPORTUNITY*

Your donation can help SAVE LIVES…

DIABETES is common. 1/3 of the village of El Remate cannot access drinkable water and coca cola is cheaper than bottled water. Many children, who have been raised on soda pop, experience SEVERE health problems from being "sugar babies" (incl. mental problems).

The rate of ASTHMA is extremely high. Mothers hold their little ones close to wood burning stoves as they cook dinner, and children inhale major toxic pollutants, leading to terrible respiratory problems. You can help our medical clinic provide FREE MEDICINE to families in need.

If you are unable to attend and would like to donate in lieu of, PayPal donations are available.

Donations to our silent auction are GREATLY appreciated. For further information, Please contact:
aedge7777@gmail.com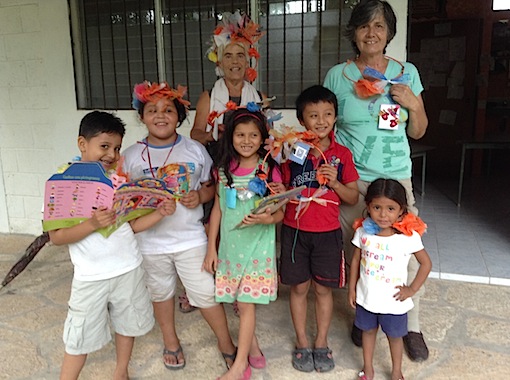 Every afternoon there is something different for the kids to do at the Ix-canaan After School Program. Volunteers Margo and Ceclila make the classes fun and interesting for everybody!